Amundi's 4th quarter and annual 2016 results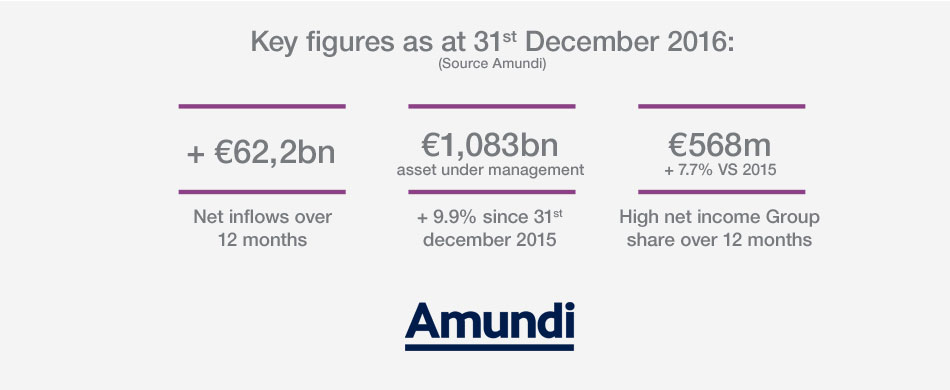 Despite a market environment full of contrasts (macroeconomic concerns, Brexit vote), Amundi records strong net inflows, above the annual target1, and a renewed growth of the net income Group over 12 months.
In 2016, Amundi's assets rose by + 9.9% to €1,083 billion, under the combined effect of strong inflows, a favourable market effect and a positive scope effect related to the integration of KBI GI and Crédit Agricole Immobilier's real estate management activities.
Over 12 months
The net inflows, + €62,2bn were driven by :
the Retail segment, with +€34.7bn net inflows and the Institutional segment which records a net inflows of €27,5bn
Medium/long-term assets which concentrate 73% of the global net inflows
the international market which represents 75% of the global net inflows
Amundi's net inflows for open-ended funds are ranked No. 2 in Europe2 .
2016 was marked by renewed growth of the net income Group share, which rose to €568m, a significant raise of +7.7% vs. 20154
This progress reflects :
Net revenue up by +1.2% (to €1,677m)
Strict control of operating costs (€878m, i.e. +1.1% vs. 20153), which are evolving in line with net revenue. Consequently, the cost-to-income ratio was almost stable (52.3%) and gross operating income amounted to €800m, i.e. +1.4% vs. 20153.
Over the last 3 months – 4th quarter 2016
Net inflows reach +€23.1bn, vs +€14,1bn over the last 3 months of 2015
At €443m, net revenue rose by +2.7% vs. Q4 2015
The cost-to-income ratio stood at 53.2%
The net income Group share amounted to €153m (+16.5% from the 4th quarter of 20153)
Yves Perrier, Chief Executive Officer, comments
"The 2016 results confirm the profitable growth trend Amundi has demonstrated since it was created. The acquisition of Pioneer Investments will reinforce its business model and its development potential by strengthening its areas of expertise and its ability to innovate in order to serve our individual and institutional clients."
Furthermore, the Board of Directors has decided to propose a dividend of €2.20 per share in cash at the General Meeting to be held on 18 May 2017, i.e. growth of +7.3% vs. 2015.
This dividend offer represents a payout ratio of 65% of the Group's share of net income (based on the number of shares at end-2016), and a 4.2% yield based on the share's closing price on 8 February 2017
1. Average annual inflow target of €40bn announced during the IPO
2.Source: Broadridge Financial Solutions, Nov 2016, open-ended fund domiciled in Europe
3.Excluding IPO expenses: €15m before taxes, €9m after taxes in 2015, of which €7m in Q4