Well-structured analysis combined with an engagement policy
Extra-financial analysis forms the substance of responsible finance, assessing the quality of issuers' environmental, social and governance (ESG) policy. Underlying this approach is the conviction that the association of financial and general interest criteria can consolidate value creation. By taking into account the interests of all the stakeholders, it generates the confidence that is a prerequisite for success while limiting risks.

Extra-financial analysis is highly pragmatic: rather than judging any business sector, it analyses how, within a given sector, companies handle ESG opportunities and risks. Only the most advanced companies are selected: this is best-in-class analysis.

In order to round out this approach and encourage companies to adopt best practices, we have implemented an engagement policy. While voting at shareholders' General Meetings remains our main path of action, fostering dialogue "for influence" with companies on a regular basis is essential.

When spurred by structured extra-financial analysis and a stronger engagement policy, competition among the best companies can become a source of progress.

We rely on significant resources:

15 analysts dedicated to ESG issues (extra-financial analysis, quantitative research, corporate governance). The analysts meet with companies, contribute to defining Amundi Group's voting policy at General Meetings, initiate dialogue with companies and draft research protocols to assess the impact of ESG criteria on fund performance;
The analyses of partners:

ESG rating agencies, European and American, with a global reach
Entities specialising in given themes
Data providers on controversies

1 distribution interface, available in real time in the fund managers' tools, giving them access to corporate and government issuers' extra-financial ratings alongside financial ratings;
We have perfected our own extra-financial analysis methodology. It is based on texts with a universal scope, like the United Nations Global Compact, the OECD's guiding principles on corporate governance, the International Labour Organization (ILO), etc.

We refer not only to companies' sector context, but also to their regional and legislative environment. Our analysis also factors in major issues such as climate change, child labour and transparency in business conduct.

Our internal reference values are comprised of 36 criteria:

15 generic criteria, common to all companies whatever their business sector, for instance environmental strategy, human rights, transparent governance policy;
21 sector-specific criteria, for instance access to drugs for the pharmaceuticals industry, responsible marketing for banks, green vehicles for the automotive sector.

Criteria are weighted according to the business sector. The greater the risk associated to a criterion, the greater the weight attributed to this criterion.

Our extra-financial analysis covers more than 4,000 issuers. The analysis results in a global extra-financial rating for the issuer on a scale from A (highest score) to G (lowest score).
We have developed a specific ESG methodology for countries, known as CARe for Compliance, Actions and Results:
"Compliance"or commitment through signing and ratifying charters, treaties, conventions and directives: Kyoto Protocol, Convention on Cluster Munitions, etc.
"Actions"or concrete and direct measures taken by countries, implementation of public spending policies for healthcare or education, etc.
"Results"or indicators on which countries have no direct influence and which can measure their performance, e.g. CO2 emissions/inhabitant, waste/inhabitant, infant mortality rate, life expectancy, degree of press freedom.
The analysis results in a global extra-financial rating for the country on a scale from A (highest score) to G (lowest score).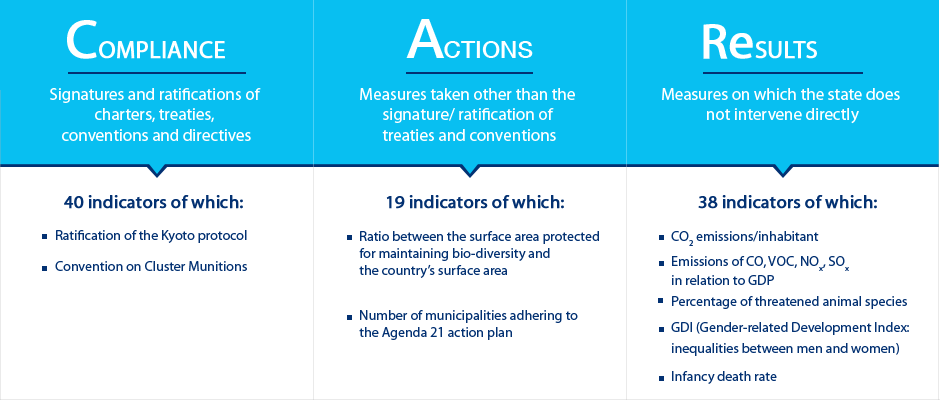 Our engagement policy is multifaceted: engagement for influence, collecting information for rating purposes, voting at general meetings and pre-meeting dialogue.

1.We conduct an engagement policy for influence on specific themes so as to encourage companies to adopt better practices.

2. In order to fine-tune the extra-financial ratings, analysts regularly stage meetings with companies that are important in our portfolios or in benchmark indices.

3. As early as 1996, Amundi implemented its own voting policy, updated every year, which includes environmental and social criteria. Pre-meeting dialogue consists in obtaining greater insight into issues submitted to the general meeting. It is a good way for Amundi to obtain additional commitments from companies, changes in practices or even the definitive rejection of certain types of resolutions.

We also support international collective shareholder initiatives* to induce public authorities to adopt incentive measures and encourage companies to improve their practices.

*Some international shareholder initiatives: Institutional Investors' Group on Climate Change (IIGCC), Carbon Disclosure Project (CDP), Forest Footprint Disclosure Project, Water Disclosure Project, Access to Medicine Index, Access to Nutrition Index, UN Global Compact engagement on leaders & laggards, Extractive Industries Transparency Initiative (EITI).