Lookback on 2018 for Amundi Real Estate
Lookback on 2018 for Amundi Real Estate
Tuesday 19 February 2019
Amundi Real Estate, the group's asset management company specialized in real estate development, structuring and funds, reached a global sales volume of more than 3 billion transactions for the real estate funds and mandates it manages.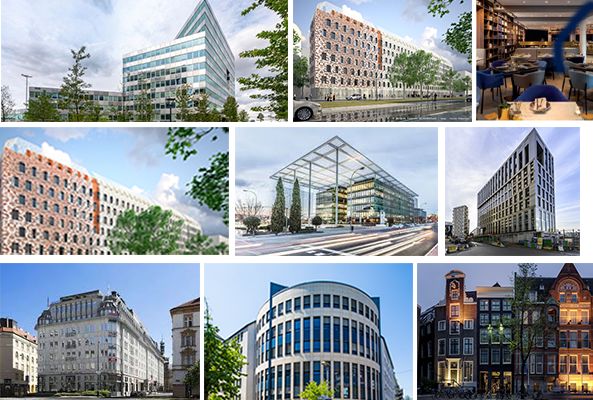 Over 2018, Amundi Real Estate made:
17 acquisitions for a total of €1.9 Billion
In 2018, Amundi Real Estate continued its investment strategy on Core assets, particularly offices. They represent nearly all (96%) of acquisitions made this year, 3% are hospitality assets. In total, 13 office buildings were bought throughout Europe.
Transfers that amounted to €1.1 Billion in 2018
Regarding its active management of the funds it handles, Amundi Real Estate proceeded to many arbitrations adding to a global amount of €1.14 billion. Transactions were made, mainly in the United Kingdom with the transfer of eight buildings, for a total of nearly €500 million.
A reinforced action plan towards Responsible Investment
Amundi Real Estate values its buildings on the base of a detailed cartography that includes social and environmental criteria. It continues its plan to certify its buildings. Among the 750 buildings that make its estate under management, 414 buildings have been mapped and 80 buildings were certified, 10 of which in 2018.
Amundi Real Estate is then active in 14 countries. France and Germany represent 66% of acquisitions made this year, Italy 11%, Spain 6%, the Netherlands 6%, Austria 5%, and Czec Republic 5%.
Our investments diversification and arbitration policy continued throughout 2018, as well as maintaining an active policy on our Core Markets with emblematic acquisitions in Spain, France or the Netherlands, with the purchase of the INK Hotel in Amsterdam. For 2019, the diversification of our allocation will be our guideline, as well as targeting exemplary assets in terms of social and environmental criteria.
Jean-Marc Coly, CEO, Amundi Real Estate