Golf: Amundi's commitment
Golf: Amundi's commitment
Paris, Tuesday 08 June 2021
Sponsoring
Amundi No.1 European Asset Manager, proud sponsor of The Amundi Evian Championship
The Amundi Evian Championship: Amundi strengthens its commitment to women and young talent
Amundi, involved in golf since 2011, has taken a new step this year by becoming the title partner for the next five years of the women's golf major in Evian, renamed "The Amundi Evian Championship" for the occasion, as announced on 1 February 2021.
Amundi is thus making a long-term commitment to women's sport, in line with its convictions regarding diversity and equality.
In addition, Amundi wishes to support European women golfers over the next five years to enable them to better emerge on the international golf scene. Equal opportunities being part of Amundi's core values.
That is why, Amundi creates a new support program, the Amundi Women Talent Program, which aims to sponsor 5 European players over a period of 2 years by offering them sporting opportunities and visibility beyond a simple financial contribution.
More, Amundi will support the younger generation by accompanying 9 young French talents (6 men and 3 women) from the Evian U18 team in the university recruitment process for the United States (which will take place in November in Las Vegas) via the Amundi Young Talent Program. Also the program will give local children the opportunity to discover women's golf by inviting them to spend a day on the course.
In order to highlight the event, Arnaud Sérié, expert in banking innovation within the Crédit Agricole Group and the leading French golf influencer, becomes Amundi's official Golf Ambassador for this first edition. On a daily basis, he offers educational and sometimes offbeat videos about the world of golf with the aim of entertaining and modernizing the image of golf in France and around the world.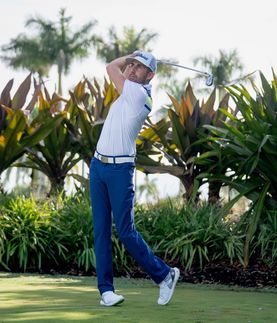 Arnaud Sérié
This year "The Amundi Evian Championship" will take place from July 22 to 25 on the Evian Resort Golf Club course.
The 5 players of Amundi Women Talent Program:
CAMILLE CHEVALIER – France
LET 2020: 86
Rolex Ranking: 563 (9th FRA)

KAROLIN LAMPERT – Germany
Ladies European Tour Ranking 2020 : 5th
World Ranking: 279th (6th German)

LUCREZIA COLOMBOTTO ROSSO – Italy
LET 2020: 24
Rolex Ranking: 379 (2nd ITA)

LUNA SOBRON GALMES – Spain
LET 2020: 12
Rolex Ranking: 236 (4th SPA)

LUCIE MALCHIRAND – France

Rolex Ranking : 454