Friday 27 April 2018
Financial Communication
A strong start to the year, confirming Amundi's growth trend
Paris, 27th April 2018 – This Friday, Amundi publishes its 1st quarter 2018 results, reflecting a very strong start to the year and confirming the Group's ability to grow while keeping costs under control, thanks in particular to Pioneer-related synergies.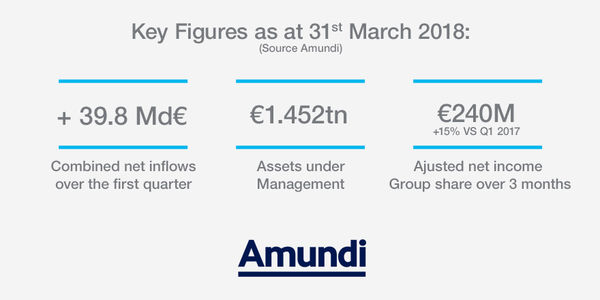 Amundi's assets under management amounted to €1,452bn at 31 March 2018 (+5.8% vs. 31 March 20172), reflecting excellent business activity (net inflows of €39.81 billion in Q1 2018), partially offset by a negative market effect (-€13.5 billion).
+€39.8bn of strong and diversified net inflows
These strong net inflows were driven by both client segments, Retail and Institutionals, by all regions, and by all investment expertises. This demonstrates the strength of Amundi's diversified business model:
The Retail segment enjoyed a high level of activity with net inflows of +€21.7bn in Q1 2018 (versus +€13.4bn in Q1 2017 combined), generated by all distribution channels.
The Institutionals segment once again recorded significant net inflows, at +€18.1bn in Q1 2018 (versus +€15.8bn in Q1 2017 combined), balanced between treasury products and MLT products.
From a geographic viewpoint, net inflows were once again driven by the international segment (+€25.4bn), which accounted for 64% of the total. Business activity was strong in all regions, with a significant contribution from Asia and Italy.
All the asset classes have contributed to the 1st quarter 2018 net inflows
Adjusted net income of €240m3, sensibly up 15%2
Adjusted3 net income of €240m, up 15% vs. Q1 2017 on a comparable4 basis, with::
Net asset management revenue up 6.8%4
Operating expenses5 down 5.2%4 to €336m, reflecting the rapid implementation of Pioneer-related synergies
A cost/income ratio3 of 50.7%, an improvement of 3.7 pts4 over Q1 2017
Taking into consideration the contribution (up 54.3%4) from equity-accounted entities (primarily the Asian joint ventures) to income, and a tax charge of €95m, net income, Group share totalled €240m, up 15.0%4 compared with Q1 2017 on a comparable basis.
Perspectives
The Pioneer integration plan is being implemented quickly: more than 50% of the workforce reductions had already been completed at end-March 2018, several major legal mergers have taken place (Germany, Italy, the United States, Switzerland, Luxembourg, Czech Republic, Japan and Taiwan) and the first IT migrations have been successfully completed in Germany and Czech Republic. The IT migration processes are underway for the other platforms and are expected to be completed in 2018 in Europe and in the first half of 2019 in the United States. The good progress on the Pioneer integration suggests that the phasing of the synergies will be faster than announced, with 60% of synergies generated in 2018 (versus 40% projected).
Amundi's very good performance in the first quarter of 2018, driven by all business lines and investment expertise, confirms the value of its business model, further strengthened by the acquisition of Pioneer, whose integration is on track with objectives but in advance with the announced timeline.
Yves Perrier, CEO
1 Asset under management and inflows include assets under advisory and assets sold and take into account 100% of assets under management and inflows on the Asian JVs. For Wafa in Morocco, assets are reported on a proportional consolidation basis.
2 Variation figures computed vs a combined Q1 2017 (3 months Amundi + 3 months Pioneer).
3 Data adjusted in Q1 2018: before amortisation of distribution contracts (€12m after tax) and before costs associated with the integration of Pioneer (€6m after tax). Refer to methodology section on page 7 of this release.
4 Change using combined and adjusted Q1 2017 data
5 Excluding costs associated with the integration of Pioneer Investments
---
Documents