Funds Europe Awards 2018 : Amundi rewarded
Funds Europe Awards 2018 : Amundi rewarded
Friday 02 November 2018
Awards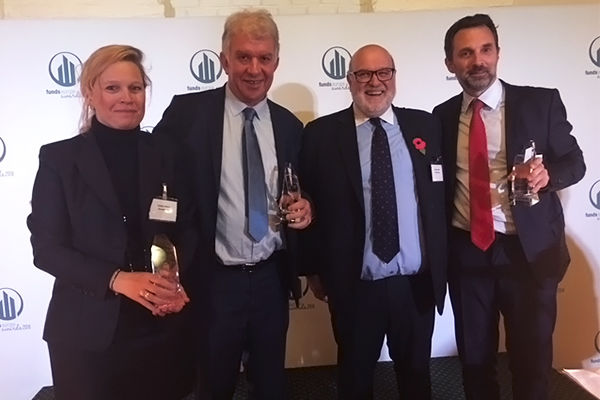 Fannie Wurtz - Managing Director, ETF, Indexing & Smart Beta Amundi. Yves Perrier - Chief Executive Officer Amundi. Alan Chalmers - Publisher Funds Europe. Alain Berry – Head of Communication Amundi.
At the 2018 Funds Europe Awards that took place in London on November 1, Amundi received three major awards:
Yves Perrier, CEO – European Outstanding Achievement
Pascal Blanqué, CIO – European CIO of the Year
Amundi ETF – European ETF provider of the year
Every year, Funds Europe, a European asset-management magazine, rewards various market players. Winners are chosen according to precise criteria with a dedicated panel and selected readers of Funds Europe:
European Outstanding Achievement
The winner, according to Funds Europe advisory board and readers, is an outstanding and high-profile member of the asset management community.
The winner has made a personal contribution during the last twelve months (up to 31 May 2018) to the success, growth, development and profile of their organisation and to the reputation of the industry.
The winner achieved growth and excellent investment returns through strong, innovative leadership, strategic thinking and successful achievement of stated investment aims.
European ETF provider of the Year
The winner demonstrated a growth in AuM, pattern of net inflows, stability of performance, product development and innovation, increased acceptability and uptake in target markets.