Paris, Friday 26 April 2019
Financial Communication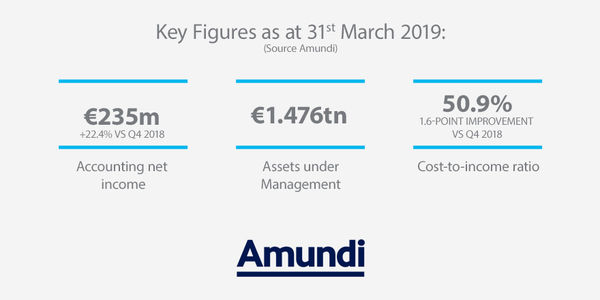 In a market environment that is improving, yet marked by persistent risk aversion, Amundi publishes today, earnings to the upside once again, confirming its business-model's resilience.
Sharp improvement in results
Q1 2019 accounting net income1 was €235m, up +6.4% on Q1 2018 and up +22.4% compared to Q4 2018. This growth in profitability is related to:
a good level of net management fees and net financial income,
controlled operating costs.
Adjusted net income, Group share totalled €247m2, up +3.2% compared to Q1 2018 and +10.0% compared to Q4 2018. This result is explained by2:
total net revenues were virtually stable at €663m (-0.6% vs. Q1 2018), thanks to resilient margins enabling net management fees to rise moderately (€621m, +0.9%) which, combined with the increase in financial income (€18m), offset the decline in outperformance fees compared to a particularly high Q1 2018.
stable operating expenses (€336m, -0.2% vs. Q1 2018), with synergies related to the integration of Pioneer offsetting reinvestments of growth as well as unfavourable foreign exchange and price effects
The cost-to-income ratio stood at 50.9%, near-stable compared to Q1 2018 and a significant 1.6-point improvement compared to Q4 2018. Gross operating income stood at €323m.
Sustained high inflows in MLT assets
Amundi's business in the first quarter of 2019 is marked by a rebound in net inflows3 in MLT4 assets, both in the Retail and Institutional segments (€8.4 billion, excluding the reinternalisation of a specific mandate in Italy for €6.3 billion). However, net cash flows totalled €6.9 billion, due to significant cash outflows from treasury products (€9.0 billion) and the reinternalisation (in January) of the institutional mandate in Italy.
The Retail segment posted a recovery in MLT assets (+€2.4bn in Q1 2019 vs. +€0.1bn in Q4 2018), driven by International Networks (+€2.6bn) thanks to discretionary portfolio management in Italy, and by Asian joint ventures. However, Net outflows from treasury products (-€7.8bn) being significant at the end of the quarter in the French Networks, third-party distributors and JVs, net outflows from Retail totalled -€5.4bn for the quarter
The institutionals segment is characterised by robust net inflows in MLT assets (totalling +€6.0bn excluding the reinternalisation of an Italian mandate for -€6.3bn). Despite this positive net inflows in MLT, the segment totalled -€1.5bn for the quarter due to the substantial net outflows from money-market products in the Corporates segment
From a geographic standpoint, 70% of net inflows in MLT assets were achieved outside of France5
Finally, by asset class, MLT inflows were evenly distributed, driven by all areas of expertise.
Amundi's assets under management totalled €1,476bn3 at 31 March 2019, up +3.6% compared to the end of 2018, thanks to a positive market effect.
With increasing profitability, this first quarter is in line with the roadmap and the targets stated for 2020. The Pioneer integration is finalized. Against a backdrop of persistent risk aversion, the turnaround in inflows in medium-long-term assets illustrates Amundi's capacity to meet the needs of all its clients, through the continuous enhancement of its solutions and international presence.
comments Yves Perrier, CEO
1. Including amortisation of distribution contracts.
2. Adjusted data: excluding amortisation of the distribution contracts and, in 2018, excluding costs associated with the integration of Pioneer.
3. Assets under management and net inflows include assets under advisory and assets sold, and take into account 100% of assets under management and net inflows on the Asian JVs. For Wafa in Morocco, assets are reported on a proportional consolidation basis.
4.Medium-Long-Term (MLT) Assets excluding treasury products: equity, fixed income, real, alternative and structured assets.
5. Excluding reinternalisation of an Italian mandate.
---
Documents