Crédit Agricole S.A.'s 2022 Medium-Term Plan
Crédit Agricole S.A.'s 2022 Medium-Term Plan
Thursday 06 June 2019
Financial Communication
On Thursday 6th June, Crédit Agricole S.A. published its 2022 Medium-Term Plan in line with Amundi's strategic ambitions announced in February 2018.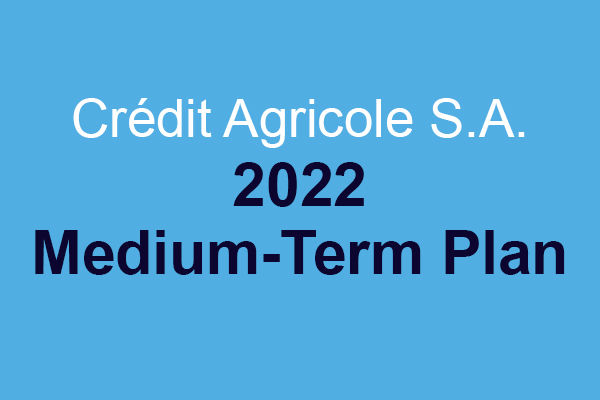 The main objective for Amundi mentioned in this Medium-Term Plan remains unchanged : to be among the global leaders in the asset management industry, thanks to:
the quality of the expertise and services it offers to its clients;
its strong growth and profitability trends;
its position as a committed financial player, in line with the three-year action plan on Responsible Investment , announced in October 2018.
Furthermore, Amundi's financial targets for the period of the new Plan are as follows:
An average annual adjusted net income growth target1 of +5%2 between 2018 and 2022;
A cost/income ratio of 53%1 or less.
These financial objectives3 allow Amundi to confirm its 2020 profitability targets 4
accounting net income ≥ €1bn,
adjusted net income ≥ €1.05bn.
In addition, the dividend payout ratio will continue to be at 65%5.
More about Crédit Agriole S.A.
1. Excluding amortisation of distribution contracts and, in 2018, excluding integration costs
2. Compared to 2018 adjusted net income, Group share, of €946m. This adjusted net income, Group share, excludes amortisation of distribution contracts and, in 2018, integration costs.
3. All of these objectives assume a neutral market effect over the period of 2018-2022
4. Press release of 9 February 2018.
5. Dividend payout ratio calculated using net income group share after amortization of distribution contracts