2020 9 months and 3rd quarter Results
2020 9 months and 3rd quarter Results
Paris, Friday 30 October 2020
Financial Communication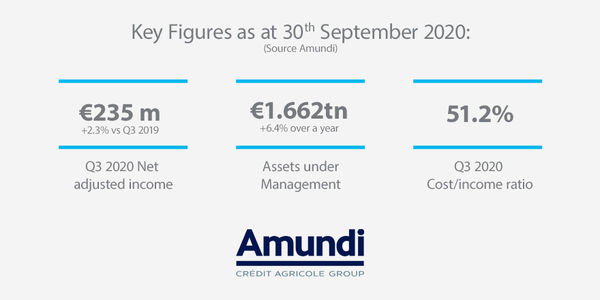 This Friday, October 30, Amundi publishes its results for the first 9 months and the 3rd quarter of 2020. Thanks in particular to high inflows, its assets1 under management increased by + 6.4% over one year and by + 4.4% over the three last months to reach € 1,662bn as of September 30, 2020
Results are maintained at a high level and confirm the solidity of Amundi's business model. The impact of declining markets on revenues was offset by lower operating expenses, which helped maintain low cost / income ratios and high profitability.
A high level of inflows, driven by all segments
Amundi's assets under management1 totalled €1,662bn at 30 September 2020, an increase of +6.4% year-on-year and +4.4% vs. the end of June 2020. This rise in assets under management is due to a high level of inflows (+€35bn), the integration of the assets under management of Sabadell AM on 1 July 2020 (+€21bn) and a positive market effect (+€15bn).
A market environment that is still uncertain
Despite a sluggish market environment with equity markets still weakened by the uncertain macroeconomic and health environment, and persistent risk aversion on the part of savers and investors, Amundi benefited from high inflows.
Q3 2020
Retail: recovery of inflows (+€5.2bn in Q3 2020 vs. -€4.5bn in Q2 2020)
Institutionals: sharp rebound in activity (+€21.4bn in Q3 2020 vs. +€0.6bn in Q2 2020) This quarter was marked by a significant turnaround in treasury product flows (+€19.2bn) especially in the Institutionals & Corporates segments.
JVs: continued growth trend with a high level of inflows (+€8.1bn), particularly in China (+€7.2bn) in India (+€1.8bn).
Expertises: MLT flows driven by ETF/index and real assets2
First nine months of 2020
Overall, in the first nine months of the year, the high level of inflows (+€30.7bn) was primarily driven by the continuing growth trend in the JVs (+€22.9bn), institutionals (+€6.7bn) and in Retail excluding JV (+€3.2bn). To be noted was the resilient activity in the French networks (+€3.8bn) and Third-party distributors (+€2.3bn).
The trend was positive for Medium/Long-Term assets (+€22.1bn) driven by Joint Ventures and Retail; inflows in treasury products (+€8.6bn) were mostly attributable to flows in the Institutional and Sovereign segments.
Solid results
Amundi's results remained high, confirming its business model is solid. The impact of the market downturn on revenues was countered by the reduction in operating expenses, which kept the cost/income ratio low and profitability high.
Q3 20203
Total net revenue (€630m) was down compared to Q3 2019 (-4.1%) but higher vs. Q2 2020 (+0.8%); these differences were attributable in large part to the market situation.
As such, net management fees were:

down compared to Q3 2019 in light of the decline in average market levels (CAC 40 down 10% Q3/Q3) and the pressure on margins (change in the product/client mix), in line with previous quarters;
up compared to Q2 2020 thanks to the integration of Sabadell AM and rising market averages (+7% for the CAC 40 Q3/Q2 average).
Performance fees were maintained at a good level (€30m vs. €25m in Q3 2019).
Operating expenses were down markedly (€323m or -3.8% vs Q3 2019), thanks to continuing cost-cutting efforts, lower travel and marketing expenses due to the pandemic and the adjustment of variable remuneration. The slight rise relative to Q2 2020 is due to the full consolidation of Sabadell AM.
The operating expenses to average AuM ratio (excl. JVs) remains one of the lowest in the industry at 9.2bp.
Consequently, the cost/income ratio stood at 51.2%, stable compared to Q3 2019.
Taking into consideration the improved contribution to €17m from equity-accounted entities (primarily the Asian joint ventures) and the tax charge, adjusted net income, Group share, totalled €235m (+2.3% vs. Q3 2019 and +1.0% vs. Q2 2020).
First nine months of 20203
Total revenues were €1,866m (-6.2%) primarily due to the market slump's strong negative effect on financial earnings, which fell from €34m (9M 2019) to -€46m (9M 2020). The trend in net asset management fees stemmed from lower average equity market levels and a less-favourable client/product mix. Performance fees increased (€106m, +24% vs. 9M 2019).
With operating expenses down (-4.4%), the cost/income ratio came to 52.0%, and Gross Operating Income was €895m.
After the contribution from equity-accounted entities (primarily the Asian joint ventures), which increased sharply (+39.5% vs. 2019) and tax expenses, adjusted net income, Group share was maintained at a solid level at €674m (-8.3% vs. end-September 2019). Excluding the impact of the market downturn, it was comparable to that of the first nine months of 2019.
In the third quarter of 2020, Amundi posted solid operating performance both in terms of business activity and results. The high level of inflows (+€35bn) was driven by all client segments, and net income1 (€235m) increased +2.3% compared to Q3 2019.
Thanks to its diversified business model and its operating efficiency, Amundi is therefore confirming its ability to combine growth and profitability, in spite of a market environment, which remains fragile due to the Covid-19 crisis.
Asia is a major focus of Amundi's expansion strategy. In the space of five years, Amundi's Asian AuM tripled, reaching more than €300bn. The launch of the new subsidiary in China with BoC give Amundi a unique position in this fast-developing market. Thanks to this new growth driver and the favourable momentum of its other activities in Asia, Amundi is targeting AuM of €500bn in the region by 2025
comments Yves Perrier, Amundi's CEO
1. Assets under management and net inflows including Sabadell AM as of Q3 2020 and including assets under advisory and assets marketed and take into account 100% of the Asian JVs' assets under management and net inflows. For Wafa in Morocco, assets are reported on a proportional consolidation basis
2. Excl. JVs
3. Adjusted data: excluding amortisation of distribution contracts
---
Documents